The Norris Deonarine Northern Wholesale Market, Macoya (NDNWM) is available to registered: farmers, vendors, other traders and the general public.
The Market is located to the South of the Churchill Roosevelt Highway, Macoya and is ideally located to capture the majority of farmers from the East West Corridor such as Diego Martin, Aranguez, Macoya, Maloney, Sangre Grande, Biche, Manzanilla, Caura and as far east as Toco and Guayaguayare. The market is also more accessible to farmers in Central Trinidad, but farmers from all over the country are able to trade at the NWM.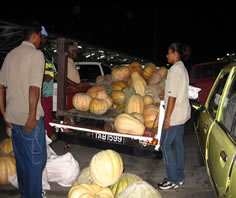 Fees:
Daily wholesale traders pay $20.00 for a park and $10.00 for a trading spot. The monthly paying traders pay different fees per month for parking according to the size of their vehicles for example $300.00 for small trucks (3 ton) and pick-ups, $600.00 for 3-5 tonne trucks and $900.00 for over 5 tonne vehicles and trucks. The trading spots cost $200.00 for monthly paying traders. Buyers are charged a small fee of $5.00 per day.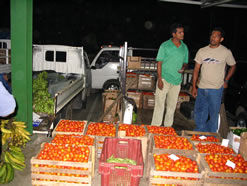 The two spacious trading bays at the market are designed to allow for all weather trading and facilitate convenient trading and transportation of goods. There is adequate parking for traders and vendors. Also, in an attempt to encourage food safety practices, NAMDEVCO is providing pallets to farmers so that produce are not placed on the ground. All farmers are required to place produce in crates, baskets or on tables when selling.
The previous Northern Wholesale Market, which was located on the Beetham Highway in Port of Spain was closed to wholesaling activities from April 09, 2002.
Trading hours at Macoya are from:

Monday – Friday (WHOLESALE): Farmers/Sellers Entry – 1:00pm Buyers Entry – 2:00pm Trading: 2:00pm – 8:00pm

Sundays – (WHOLESALE) Farmers/Sellers Entry – 3:00pm Buyers Entry – 3:30pm Trading: 2:00pm – 8:00pm

Market Closing Time – 10:00pm at end of each Trading Day

Sunday Farmers Market Farmers/Sellers Entry – 4:30am Trading: 5:00am – 12:00pm

Entry Gates: Farmers/Sellers – Southern Gate Buyers – Western Gate Official Visitors – Western Gate
(Inclusive of Public Holidays)