Packinghouse, Piarco
NAMDEVCO Packinghouse facility is situated on seven (7) acres of land located at the Caroni North Bank Road, Piarco, approximately two (2) kilometres from the Piarco International Airport, Trinidad and Tobago. This new facility is intended to provide a one stop destination for fresh produce packers and exporters so that they can store their fresh fruits and vegetables as well as meat and fish, in transit to foreign markets.
The packinghouse includes four refrigeration rooms, three chiller rooms, one freezer room and storage area for over 100 pallets of produce. Each room is individually controlled and can be completely separated but interconnected when necessary.
There are also three partially mechanized packing lines that allow for trimming, cleaning, sorting, grading, weighing and packaging of produce. Each line has an estimated throughput of two tones per hour, providing employment for seven people per line. Speed on these lines can be increased using up to 11 persons per line.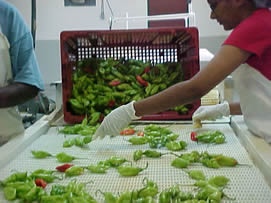 Cost of Packing Produce:
Item

Cost per lb/$TT

Cabbages
Carraile
Christophene
Cucumbers
Dasheen Leaves
Pineapples
Pumpkins
Hot Peppers
Sweet Peppers
Tomatoes
Watermelons
Melongene
Bodi
Cauliflower
Celery
Chadon Beni
Chive
Coconut
Dasheen
Eddoes
Ginger
Grapefruit
Lettuce
Orange
Patchoi
Pimento
Portugal
Spinach
String Bean
Sweet Potato
Water Cress
Yam

$0.23
$0.65
$0.28
$0.14
$0.34
$0.35
$0.07
$0.30
$0.35
$0.29
$0.11
$0.14
$0.14
$0.30
$0.30
$0.34
$0.30
$0.25
$0.35
$0.35
$0.40
$0.25
$0.20
$0.25
$0.25
$0.30
$0.25
$0.30
$0.14
$0.35
$0.30
$0.35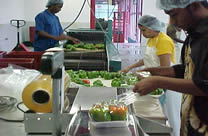 Exporters can benefit in the following ways:
Presence of plant quarantine inspectors and customs officials on site.
Clean, certifiable environment, which will allow penetration of higher quality markets.
Produce storage facilities will allow better produce quality maintenance.
Direct link to governmental agencies, thereby reducing delays in document processing.
Better protection from variances in shipping schedules.
Greater access to extension and technology advice.
Better security for produce delivery and export dispatching.
Better marketing opportunities due to central location.
NAMDEVCO will be constantly conducting training programmes for all users of the packinghouse facilities on post harvest handling, product display and food safety in order to improve the quality of agricultural products that leave the country via the export trade.